Happy 2014! -- Have you set your goals?
Posted by Scott Hack on Wednesday, January 1, 2014 at 2:37 PM
By Scott Hack / January 1, 2014
Comment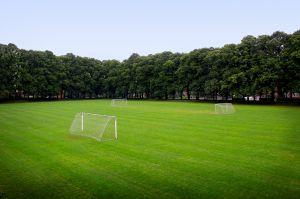 It is so hard to believe, but the last moments of 2013 are behind us. The reality is that each day we start over with 24 hours and have the opportunity to make choices to better our lives each day. However, it seems that at the beginning of a new year, we reflect just a bit harder. I'm fine with that. If you've ever been out to dinner with me, you know that I've got a soft spot for restaurant servers and bartenders. Many moons ago, I used to be one.
I'll tell you how long ago it was. I used to work at Applebees inside of Mall St. Matthews. Which doesn't even exist anymore. It was a great experience. I was fairly shy and it was the type of job that forced me to talk to people. The other servers were all very welcoming and friendly and I'm still in contact with several of them to this day. While there I had a manger named Gill who challenged me at the beginning of every shift to set my goals. How much in tips did I want to generate? Gill knew that by setting a goal, I would set an attitude and a work ethic for the night. I would have a measuring stick to determine if I had a successful night or not. I would have a finish line to strive for... I would know which direction to kick the ball!
In most of my endeavors I brought the goal making mantra with me. I no longer make daily goals, but monthly and yearly goals are still part of my routine. But I stopped holding myself accountable to the goals. The list was too loose. It had no teeth. If I didn't reach a goal, I just carried it over to the next month. Or worse, the following year. Part of the reason for that is I was missing Gill. I'm self employed. There is no one else for me to report to. Gill isn't there anymore to remind me to stay focused and keep my eye on the prize.
My wife and I sat down the other day and created goals in 7 different categories.
Professional Development : How can I become better at my job?
Financial : How much do we want to earn and contribute to savings?
Health and Wellness : How can I become healthier?
Relationships : How can I strengthen my relationships with my family, friends and spouse?
Personal Growth : How can I be a better and happier person?
Spiritual : How can I grow spiritually?
The Home : What projects need completing that will increase our quality of life?
I won't bore you with all of my goals, but I wanted to share with you the categories that we used. I'd encourage you to sit down and create your own set of goals for the new year. One thing I'm trying new this year is placing my goals as my desktop background so that I see them each day. I'm also going to organize an accountability group. I know I have lots of friends who wouldn't mind giving me a ring and asking me how I'm doing on my goals. I plan to do the same for them and others.
Finish Line Realty has its own set of goals. The three most important and public include.
1. Like my buddy Jason Falls - I want to write and share more with you. The adage that the three things that matter in property: location, location, location is so entirely true. National media can't begin to scratch the surface and share what is happening here in our local market. Even our local media has trouble zeroing in on things besides the numbers and how they relate nationally.
2. We're bringing in more agents. For the past 2.5 years we've been working behind the scenes generating systems, marketing tools ( like our text message system, websites, etc ), and building a brand that other agents can be proud off. 2014 is the year that we invite other agents to see the benefits of aligning themselves with us. Interested? Get in touch!
3. You're going to see some video from us. I'd like to say you will see a lot of video from us, but I want to be realistic. Approaching a new medium means we should probably wade into the process slowly and get our feet wet first.
Have a safe and prosperous new year one and all!
To close, I'll leave you with a sneak peek -- here is our intro video that we've developed!